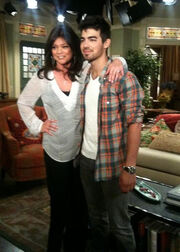 William "Will" Moretti is the son of
Melanie Moretti
 and her ex-husband, Anders. He has one siblings, a sister named Jenna. He has made 2 appearances on the show.
Appearances
Edit
His first appearance is in Season 1 Episode 9, Good Luck faking the Goiter. He comes to visit on his way back from college

, she invades his privacy and learns a little too much when she discovers that he did not tell her about getting engaged. She uses his cell phone to text his girlfriend by pretending to be Will, resulting in their break up. Joy, believing that she is experiencing a mid-life crisis, tries seeking therapy...by going to different therapists; using this experience she is able to help Will and Melanie reconnect. 

His second appearance is in Season 3 Episode 9, Love is Blind. 

Victoria receives a surprise visit from her daughter, Emmy

and Melanie from her son Will

, who reveal their plan to wed each other. 
Played by Joe Jonas